My top 4 Hygge boxes for Christmas including one for 'men'…
The Hygge Beauty box contains cleanser, cleansing foam, bath and shower gel, lavender bath oil, badger balm cheerful mind balm, and olverum bath oil – All is Bright – Luxury Skin Care Beauty Box, at £21
The very best artisan products from the UK and send all our boxes beautifully packaged in luxurious tissue paper and natural packaging. We make our boxes easy to see exactly what you're buying, with no extra cost for post, gift packaging or cards.
3 x Praline Chocolate Truffle Boxes in Milk Chocolate, Raspberry & Champagne. Made in Devon. The perfect blend of single estate chocolate and freshly roasted hazelnuts with a touch of seasalt. 3 boxes each with 4 truffles, Orange Blossom hand-poured soy wax tealights. Pack of 6. Bloomtown Botanicals Soap Square 'The Hedgerow', Bloomtown Botanicals Bath Salts Bloomtown Botanicals Roll-on Perfume Oil 'The Hedgerow' (Blackberry and Honeysuckle) A purse-sized roll-on nourishing infused oil, and Bloomtown Botanicals Sugar Scrub 'The Hedgerow' (Blackberry and Honeysuckle) – £54.95
Each Giftbox comes with the following items and ready to give or receive wrapped with gift ribbon and label with a personalised message. Sent straight to the receiver.
– Super soft fleece Blanket
– Gorgeous wool/cashmere socks (one size approx UK 4-7)
– Glass tea light
– Antler/Stag Mug- Belgian Hot Chocolate stick and marshmallows
– Go Stationery Notebook and Pencil for your thoughts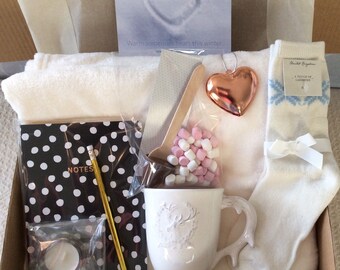 Wearth London Alice and Peg Gift Box for Men
The Hygge gift box makes for a lovely ethical gift for him and her and contains: Rooftop Garden Candle (Bergamot, Basil, Thyme, Lavender & Ylang Ylang). Handmade by Sunday of London. Midnight Somewhere Candle (Lavender, Rose, Lemon, Lime & Orange Peel). Handmade by Sunday of London, made from coconut wax and pure essential oils. For peace and tranquility.Black Candle Wick Trimmer. An essential and elegant tool for trimming your candle wicks to the perfect length to keep your candle burning cleanly.
• 68% Single Origin Dominican Salt Chocolate Bar (70g). An intense chocolate handmade by Bare Bones Chocolate in Glasgow and a Tea Tasting Selection – Set of 3 Organic Matchbox Teas by Joe's Tea Co. Queen of Green, Sweet Chamomile & Ever-So-English Breakfast.